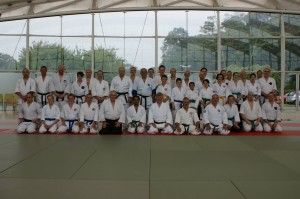 The 4th edition of the South Of The River seminar took place this weekend at the SAGA Pavilion in Sandgate, Kent. It was organised by Genryukan Aikido with the invaluable help of Gowaryu Aikido and Hassou Aikido.
There was an excellent atmosphere throughout, people having fun practicing. We had the pleasure to have Shaun Hoddy, Paul Bonett, Bob Jones and Ken Broome who gave their time and knowledge freely.
The SOTR is British Aikido Association event held in profit of the "Saga Respite for Carers Trust". In the UK today there are more than six million people looking after a family member, partner or friend, often isolated and unsupported. The Saga Respite for Carers Trust was launched to help carers aged 50 and over by providing a much needed holiday for the carer and a friend.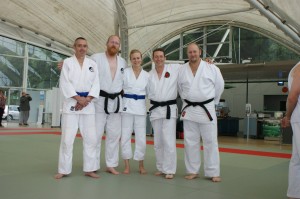 There was also a BAA grading taking place on the Saturday, and our students did brilliantly. Geoffrey Harris was promoted to 4th kyu (orange belt), whilst Yvette Marshall and Tony Dowling were promoted to 1st kyu (brown belt).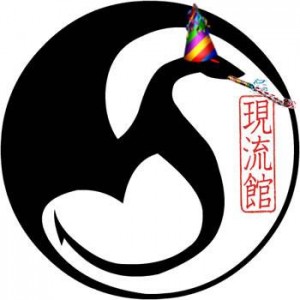 The club is 4 years old today! Big thank you to everybody for your help and looking forward to many more sessiosn and learning (and a bit of fun every now and then too).
I've learned a lot since the club has been going, not only from my colleagues and the great guest instructors who've been visiting us, but also from the students, past and present. I feel lucky to have such a good bunch of people training with us, and proud of the progress I've seen. Let's keep it up, we all still have a lot more to learn!
"Shoshin" all the way!
Genryukan Aikido and Mushin No Shin Aikido are honoured to be jointly hosting the 2011 South Of the River Aikido Seminar.
Again we have the wonderful sea views from our venue, the fantastic SAGA Pavilion in Folkestone, and have an exciting programme of Aikido scheduled for the weekend.
We are hoping the weekend ticket will provide everyone with amazing value for money.
It is an open event, so all are welcome regardless of association.
This year we have a dedicated juniors programme, with some fantastic activities lined up.
Instructors;
Ken Broome 7th Dan
Shaun Hoddy 6th Dan
Paul Bonett 5th Dan
Chris Stamate 4th Dan
Mick Pratt 4th Dan
Jim Dempster 3rd Dan
Pricing;
Adult Weekend Ticket (Saturday & Sunday) – £15
Junior Weekend Ticket (Saturday & Sunday) – FREE
Adult Saturday only – £10
Adult Sunday only – £10
Juniors Programme – Lots of fun and games. Embu (Randori & Open kata).
Seniors Programme – TBA
Please visit the event home page for updates
For more information please contact Phil Eyers on Facebook via Genryukan Aikido group or email phil@genryukan.co.uk
Please feel free to RSVP on our Facebook event page
Zen Eikoku Tomiki Aikido Renmei is hosting a Koryu Dai Ichi Seminar under the direction of Shaun Hoddy Sensei 6th Dan Tomiki Aikido, 1st Dan Taiho-Jutsu.
Saturday 14th November 2009, from 2:30pm to 5:45pm
"My daughter Lisa who lost her battle to cancer on 27th November 2006 has inspired this course. The aim of this course is to raise money for the Karen Ball Fund. The Karen Ball Fund is a small charity based in the county of Rutland who came to our aid by funding some of Lisa's private treatment. All profits made will be donated to the Karen Ball Fund."

Please support this good cause:
http://www.rutnet.co.uk/karenballfund
Cost:
ZETAR Licensed Instructor Free
Adult Course Fee £8.00
Junior Course Fee £4.00
More details available here:
Course invite, Koryu Dai Ichi Seminar